Better Beach Rentals is proud to announce a partnership with Natural Sanitizing Solutions, a company that specializes in creative, effective, and safe methods to disinfect buildings. Utilizing their ANNIHILAR EPA registered Hypochlorous Acid Generators they can quickly and effectively disinfect a property, destroying many common bacteria and viruses! The kill list for this method includes but is not limited to E coli, Salmonella, HIV-1, H1N1, and of course, SARS-CoV-2 more commonly referred to as Covid-19.
A Safe and Effective Solution
Natural Sanitizing Solutions uses a powerful, broad spectrum disinfectant, called Annihilyte®. This disinfectant uses our own biology to fight viruses and bacteria, by utilizing Hypochlorous Acid, a naturally occurring acid produced by our white blood cells to combat viruses and bacteria. This innovative disinfectant is safe for people and pets, safe for the environment, yet deadly for viruses and bacteria!












Green Seal Certified
The Annihilyte® used in the cleaning process is Green Seal Certified for your safety!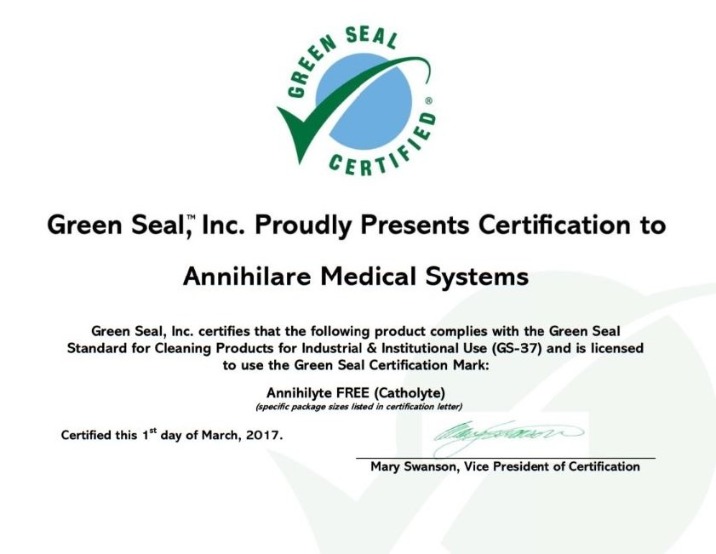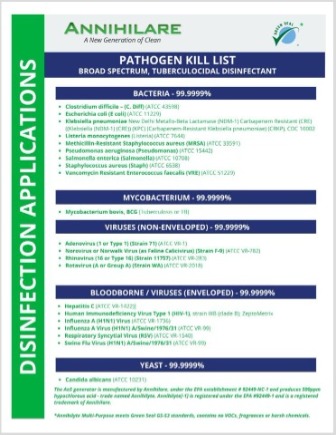 Large Effective List
This solution has an extensive kill list, proving effective against numerous pathogens of all types, including Covid-19!
Starting in 2021, all of our properties will be disinfected prior to every reservation!