---
How to Have A Beach Themed Christmas
Posted On Monday, November 23, 2020
---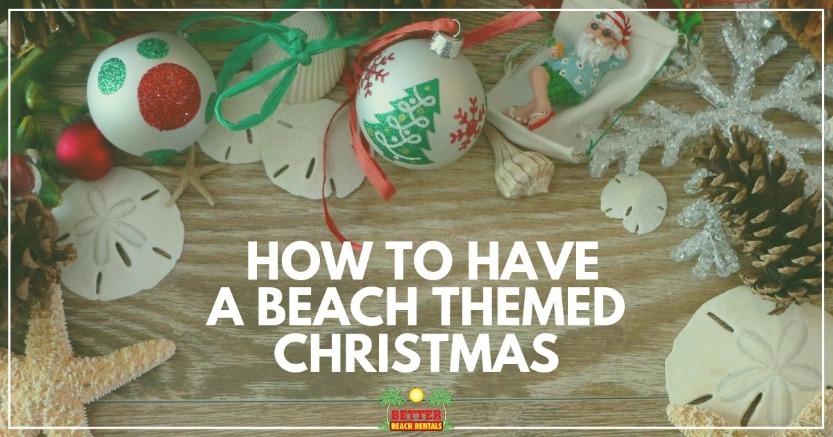 Christmas is almost here, and many of us are seeing colder temperatures and cloudy weather. But that doesn't mean you can't add a little beach cheer to your Christmas celebration. There are all sorts of fun, easy and inexpensive ways to bring a little bit of the beach and the coast to your holiday celebration. This week we have some great ideas for all you beach lovers out there! Have fun creating the perfect beach themed Christmas.
Plan the ultimate themed Christmas
Of course, the easiest way to have a beach themed Christmas is to simply head to the beach for Christmas. If you love the beach and have always wanted to have Christmas at the beach, we are here to help. We have loads of great homes that are just perfect for your Oak Island Christmas vacation. Why work so hard to bring the beach to your house, when you can just rent our house at the beach?
The Tree
The centerpiece of any Christmas decor is, of course, the Christmas tree. Here in North Carolina, we're not only famous for our beaches, but we are also one of the largest producers of Christmas trees in the nation. Finding the perfect tree is an important first step in getting Christmas ready. When picking your tree, consider the space you have. You want a tree that isn't overwhelming or lost in the space. Once you have the tree, you can then consider how you want to decorate it. Consider some of these tips to decorate your tree with a beach theme:

Lights- Try all blue lights to represent the water.
Decorations- Consider lots of lighter colors like white, light blues,, and sea green.
Unique Features- Try using something unique or unusual on the tree. One hot trend is using a rope from a boat.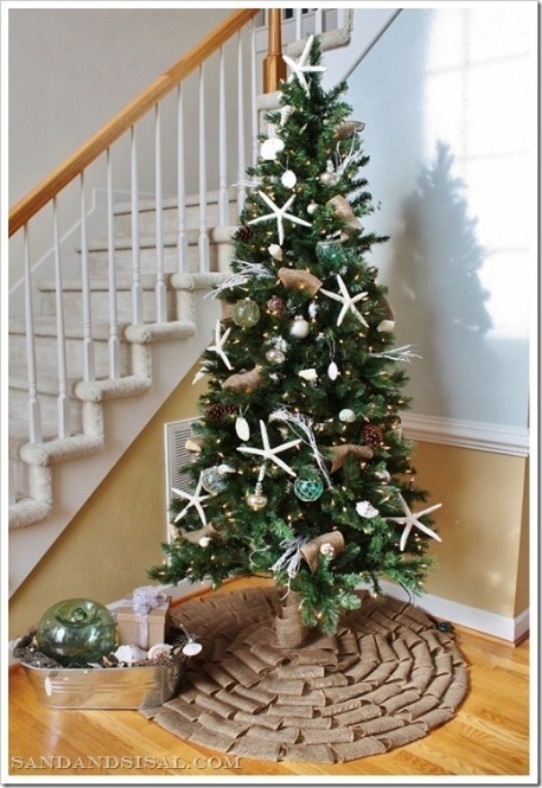 Have a beached themed movie night
The holidays are all about getting together with family. That can mean a lot of different things. However, one thing that almost everyone loves (even the teenagers) is a good movie. Plan a movie night where the whole family gets together to watch a beach related movie. Pop the popcorn, have way too much sugar, put away the cell phones and just enjoy the simple pleasure of having everyone together.
Beach themed gift game
If you are a family that loves the beach, then why not add a little beach flair to your gift giving.
Make it a rule that at least one gift you give has to relate to the beach. Maybe it can be an item you purchased while on your Oak Island beach vacation. You could make it a gift that can only be used at the beach. Have fun with it! The main idea is to bring a little bit of the beach to your gift giving.
Put a little beach on the plate
Forget that dried out old turkey or ham. Nothing takes you to the beach like seafood. With the internet, you are just a few key strokes away from finding delicious seafood and beach inspired dishes for your Christmas meal. We're partial to using fresh North Carolina shrimp from a local seafood market, but the sky is the limit. What is your favorite seafood dish? Let us know in the comment below.
Are you ready for a beach themed Christmas? Are you ready to head to Oak Island for your family's Christmas celebration? If you are, we have a great selection of wonderful homes to choose from. Our current inventory features the best homes on Oak Island. Our well-appointed homes are loaded with amenities and in all the best locations on the beach. Give us a call today at 910-278-1147 and we'll find you the perfect vacation home for your next family vacation.
Comment on this post!