---
How to Have A Stress Free Holiday at the Beach
Posted On Monday, November 9, 2020
---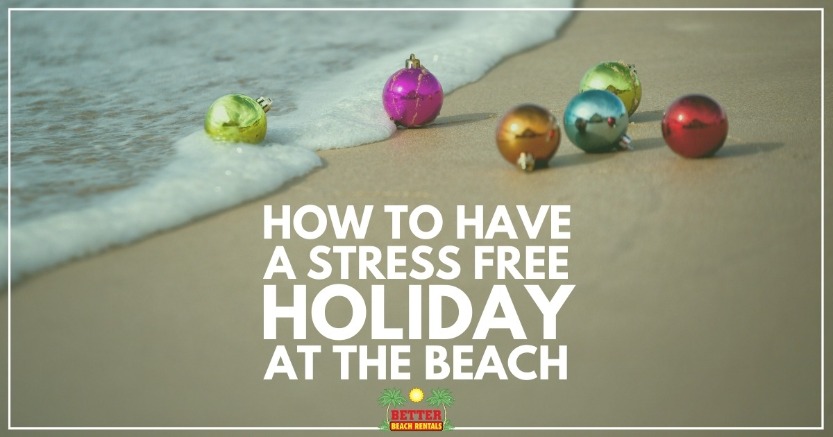 Ah the holidays, that wonderful time of year when families get together, and friends gather to celebrate the joy of the season. However, we all have to agree that at times, the joy of the holidays can be overshadowed by the fact that they can also be very stressful. This week we have some of the best tips and tricks to help you make the most of the holidays and enjoy them – stress free!
Manage your expectations
We all want to be all things to all people. And perhaps the holidays make us want to do this even more. After all, the holidays are about giving, spoiling those we love and generally indulging our friends and family. However, you can overdo it. Are you feeling like you are being pulled from one responsibility to the next? If you are, remember you have the ability to manage your expectations. The holidays don't have to be perfect. In fact, it's ok if they aren't. Try not to have unreasonable expectations which is sure add stress to your holiday season. The only expectation you know for sure will come true is that your Oak Island beach vacation is sure to be relaxing.
Say no
It's ok to say no. The holidays are a constant barrage of commitments. Kids, family, work and the never ending parties are all taxing. Add to this the demands and expectations put on you and it can be overwhelming. Here is when it makes sense to say NO. No isn't negative; instead, it is a way to preserve your space, time and maintain your mental health.
Discover the stress relieving joy of Yoga
Yoga has been around for thousands of years and it's easy to see why. Yoga offers a ton of benefits. Sure, we all think of people bent into seemingly impossible positions. However, that is really a misconception. Yoga is a gentle, low impact exercise that anyone can do. It is great for adding muscle tone, increasing flexibility and even helping with bone density. It's even better at reducing your stress. There are Yoga classes virtually everywhere these days. Don't have a Yoga studio near you? No problem – YouTube has loads of great instructors with hours of lessons you can access from anywhere, plus you can even do it right here on the beach!
Meditation..the secret weapon
While meditation is not as common in western society as it is in many Asian countries, it is gaining popularity and for good reason. Meditation is known for several things, not least of which is reducing stress. But, did you know that meditation also relaxes muscles, helps you sleep and stay focused? It has even been proven to reduce blood pressure.
Don't worry, you don't have to have any training or special knowledge to meditate. Just pick a quiet place, relax and focus on your breathing. Try to focus on a single word or image. Concentrate on taking in the sensation of your breath. Even ten minutes will be very rejuvenating.
Watch the food
Many people stress about their diet. And let's face it, the holidays do present certain challenges when trying to watch our weight. However, there are several things you can do to make sure you get to enjoy all those delicious holiday foods but not ruin your fitness goals. Here are three things you can do to help you push the plate back and stay healthy.
1. Watch your portions by using smaller plates. It sounds crazy, but it is also simple. If you have a big plate you'll be more likely to fill it with larger portions than needed. Try using a small plate to help you maintain proper portions sizes.
2. Water is key. Staying hydrated has many benefits, but there is another great way to utilize water. If you drink a large glass of water prior to eating you'll be less likely to overeat. This is because water is very filling and will give you a feeling of fullness.
4. Eat your veggies. Sure, it is age-old advice, but there is a reason that it is still great advice even today. Not only are veggies healthy, they are also very filling and will help you avoid heavier, larger portions.
Focus on your rest
Americans are known for being chronically tired, and it's no wonder. We all juggle kids, family, jobs, and activities that run us ragged. Add to that the obsession with smart devices, social media and the 24 hour news cycle and it is easy to see how sleep get put on the back burner.
Set a schedule this holiday season and stick with it. Routine is good for sleep. Aim for 7 to 8 hours of consistent, deep sleep. One tip is to avoid using your smartphone in bed.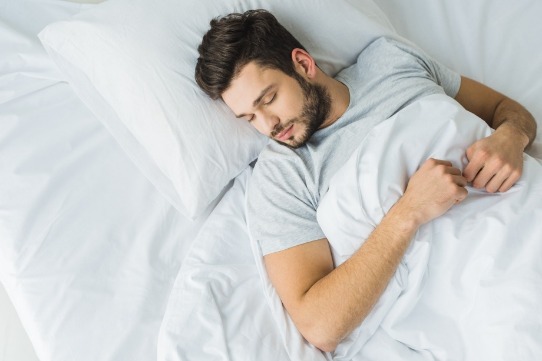 Are you ready to book your stress free holiday beach vacation? If you are, we are here to help make your holiday vacation dreams come true. Give us a call today and one of our reservationists will be happy to help you find the perfect vacation home (or click the button below).
Call today 910-278-1147
Comment on this post!