---
5 Fun Things Do When Visiting Oak Island, NC
Posted On Monday, November 8, 2021
---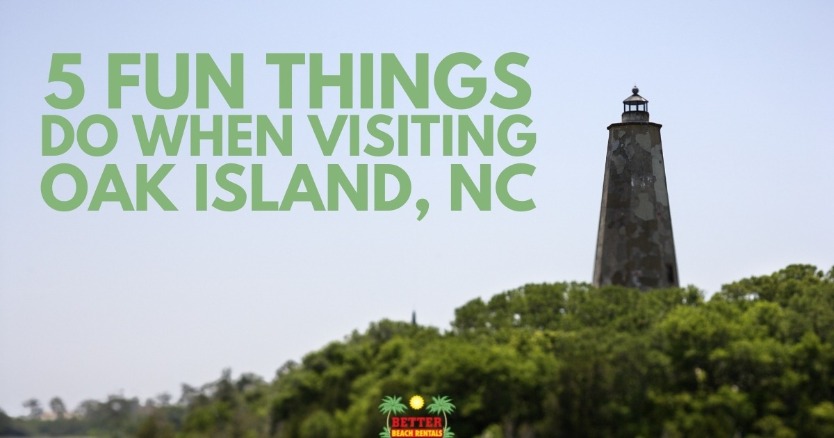 Today's blog will explore 5 fun things to do when you visit Oak Island (and the surrounding area, including Southport).
It was hard to narrow down to just five, but this list is especially helpful for people who are new to the Brunswick Islands. Book a beautiful Oak Island vacation rental and start planning a fun-filled beach vacation today!
1. Tour a lighthouse.
Have you climbed up "Old Baldy" yet? The Bald Head Island Lighthouse is a must-see. Just hop on the ferry from Southport (click here for everything you need to know).
Before you know it, you will be ascending the 108 steps of this historic lighthouse, ready to take in the amazing views.
P.S. You can also visit the Oak Island Lighthouse! It's located at the end of Caswell Beach Rd. Click here for more information.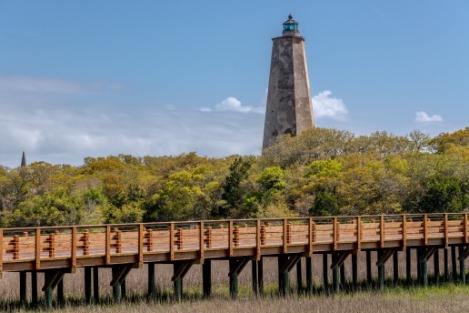 2. Go shopping in Southport
Our neighboring town of Southport is famous for fabulous shopping! It is simply bursting with fun, unique little stores and shops, each with a vibrant and exciting personality. Try the Olde Southport Village Shoppes, which is a collection of adorable, colorful cottages nestled along a "secret" path on Howe Street.
Love antiquing? You will find several options here, including Southport Antiques and the Northrop Antiques Mall.
Click here to learn more about shopping in Southport.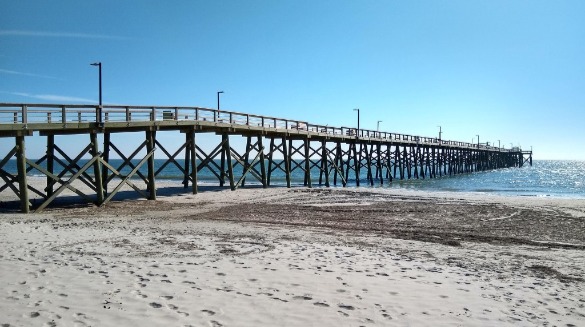 There are two wonderful piers to visit here on Oak Island.
Oak Island Pier: 705 Ocean Dr, Oak Island
Ocean Crest Fishing Pier: 1409 E Beach Dr, Oak Island
Why visit a pier? It might seem too simple, but there is something truly wonderful about the pier. If you love to fish, this is a great spot to meet like-minded friends. It's also the perfect spot to take a walk, enjoy a sunset, and attempt to spot local birds, fish, dolphins - even the occasional whale!
4. Check out special events around town
Depending on when you visit, there is probably something happening in and around Oak Island. Looking for a festival? Farmer's Market? Free concert or wine tasting? Do a quick search online and you are bound to find something great!
One good place to start is the Oak Island Parks & Recreation Facebook page. Parks & Rec manages other fun activities around town, including the Oak Island Nature Center at Register Park.
5. Indulge in some delicious seafood
A meal enjoyed during a vacation just tastes better, doesn't it? And Oak Island has no shortage of amazing restaurants – with menus to impress even the hungriest in your group! Check out this link for a huge list of area restaurants. Obviously, we recommend enjoying at least one seafood dinner while you are here! We love Swain's Seafood, as well as Turtle Island and Island Way.
Not a fan of seafood? That's ok - there are plenty of other options. One classic choice is Bob's Dogs. Also, The Provision Company has a little something for everyone.
Don't forget dessert!
Once you have booked your Oak Island vacation rental, it's time to start planning what you want to do when you arrive. Carve out some time to relax on the beach. But, it's a great idea to schedule some memory-making activities and excursions as well. They make flopping down on the couch of your vacation rental that much better.
Contact Better Beach Rentals to find a vacation rental today!
What's your favorite oak island activity?
Share it with our readers!
Comment on this post!