---
Celebrate the Holidays on Oak Island With These Awesome Events
Posted On Monday, October 22, 2018
---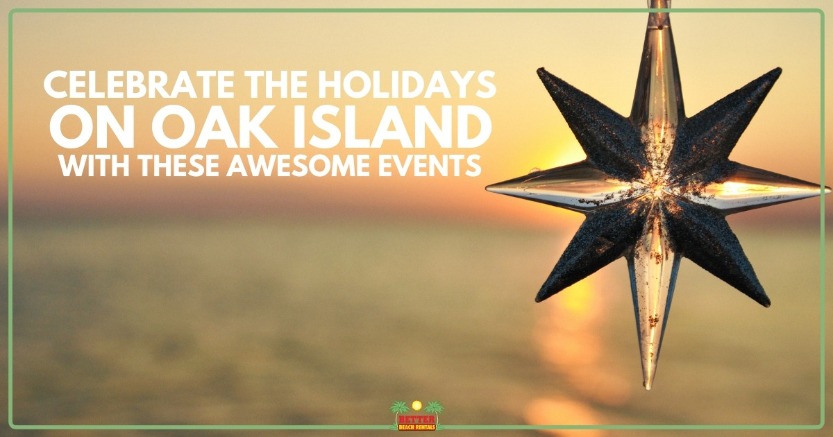 That time of year is upon us... the holiday season. There is no better place to visit during the holidays then Oak Island. From Halloween fun to Thanksgiving with the family on the beach, and finally a wonderful beach Christmas what could be better! There is nothing like being near the ocean for these holidays. This week we have all the best events that are taking place this fall and holiday season. Here are the highlights.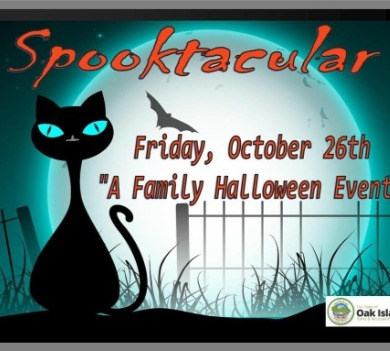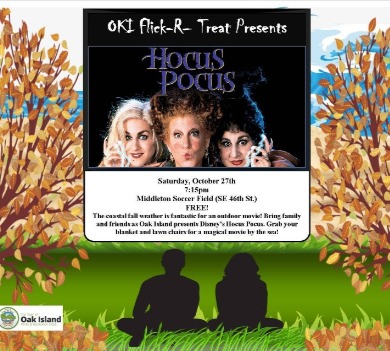 Oak Island Halloween Celebration 2018
Halloween is a great time to be on Oak Island. Oak Island, has several events taking place the weekend of October 26. All the events are free and family-friendly and no matter what age your kids are there is an event for them. Here is the lineup for the weekend.
Spooktakular
Friday, October 26, head over to the Oak Island Recreation Center for a night of fun. With loads of candy, lots of entertainment and several vendors, this is a great way to enjoy Halloween with the whole family. The best part is the pet costume contest that takes place at 6 pm. At 6:30 p.m. there is a costume contest for everyone else. These event are free and open to the public. No reservations needed, just show up and have a great time. Doors open at 5:30 pm and the event ends at 7:30 p.m. The recreation center is located at 3003 East Oak Island Drive, Oak Island, NC.
Eggstraspooky
Saturday, October 27, head over to the Middleton Park Soccer field for a flashlight egg hunt. Make sure to wear your favorite costume. Admission is free. The egg hunt has a staggered start for the little ones. Ages 1-3 at 6:15 p.m., 4-6-year-olds at 6:30 p.m. and with the 7-10 age group beginning at 6:45 p.m.. At the end of the event don't leave. Stay for another great event that begins just after the flashlight egg hunt.
Flick-R-Treat
Saturday, October 27, at 7 p.m. (right after the egg hunt) there will be a free showing of the movie Hocus Pocus, a PG-rated animated film that is fun to watch for kids and adults alike. There is no seating so please be sure to bring your own lawn chairs or blankets.
Christmas Events
Looking for something fun to do this Christmas season on Oak Island? Well, look no further as we have all the best Christmas events that are sure to get you into the Christmas spirit. From markets to parades it is hard not to fall in love with Christmas on Oak Island.
Southport Tree Lighting Ceremony
Visit Southport on November 23 at 5 p.m. for the annual lighting of the Christmas tree. This event takes place at Franklin Square Park and is the official kick-off of the Christmas season in Southport. Join your friends and family singing your favorite Christmas songs and delight in the reading of "The Night Before Christmas." Enjoy a cup of hot cocoa and some holiday cookies that will be provided under the glow of Southport's holiday lights. This event is free to the public, but donations are appreciated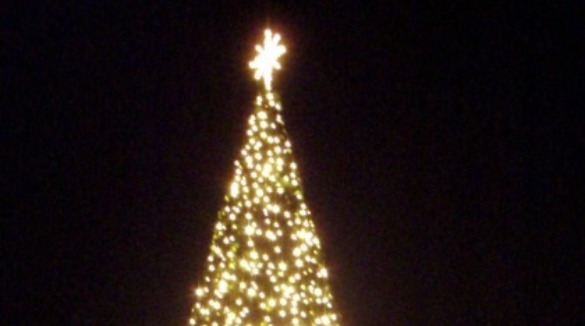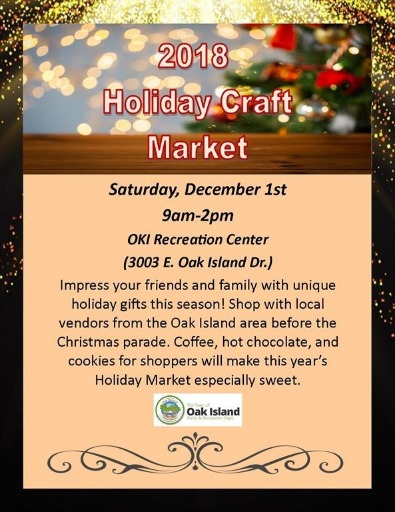 2018 Holiday Craft Market

Looking for that perfect Christmas gift? Maybe you are looking for something interesting to give your house a little touch of the beach this holiday season. If so, there is no better place to discover the wonderful artisans and vendors of Oak Island than the 2018 Holiday Craft market. So clear the trunk of the car, grab a couple of friends, and stop by and support our local artists and craftsman during this fun holiday market.
Gingerbread House Building 101
Everyone loves a Gingerbread House. So why not grab a couple of friends or the kids and head over to the OKI Community Center as Nancy Jo's Bakery shares tips and tricks to making the perfect gingerbread house! Participants will get hands-on experience as they make this year's holiday decor especially sweet.
Call the Oak Island Parks & Recreation at (910) 278-5518 to reserve your seat today!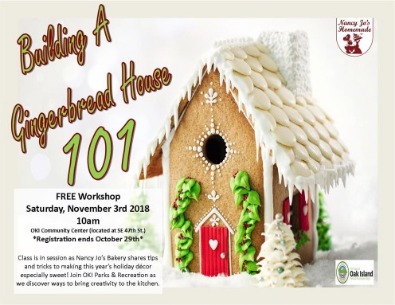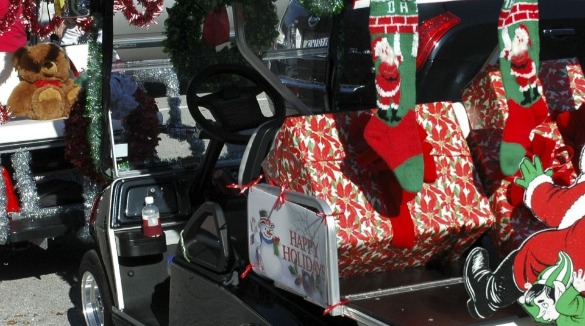 Oak Island Christmas by the Sea Parade
Everyone loves Christmas on the coast. With warm temps and fewer crowds, it is the ideal time to visit Oak Island. Of course, no visit would be complete without experiencing the Oak Island Christmas by the Sea Parade. This year the parade takes place on Saturday, December 1, 2018, at 2 p.m. following a 2.4-mile parade route from Oak Island Town Hall to McGlamery Street. There is a float decorating contest which is always fun with so many local businesses and organizations participating, you never know what you're going to see.
Southport Christmas Flotilla
On December 8, at 7 p.m. head over to Southport to see the Southport Christmas Flotilla. You will want to come early to grab dinner and then claim your spot along the Cape Fear river. You'll want to bring a chair or blanket as there is no seating. The flotilla consists of boats of all sizes (power, paddle, sail) all decked out in holiday lights and decorations. Make sure to cheer for your favorite boats as they will be judged by students of the Southport Elementary School Art Class.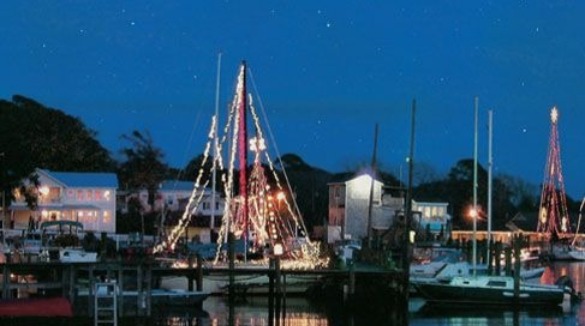 Are you ready to book your Oak Island holiday beach vacation? Our friendly reservationist are here to help you find your perfect vacation home. If you would like to check out all of our great properties, click the button below and have fun planning your holiday vacation. See you soon on Oak Island!

Comment on this post!