---
How to Decorate Your Boat for the Holidays
Posted On Monday, November 11, 2019
---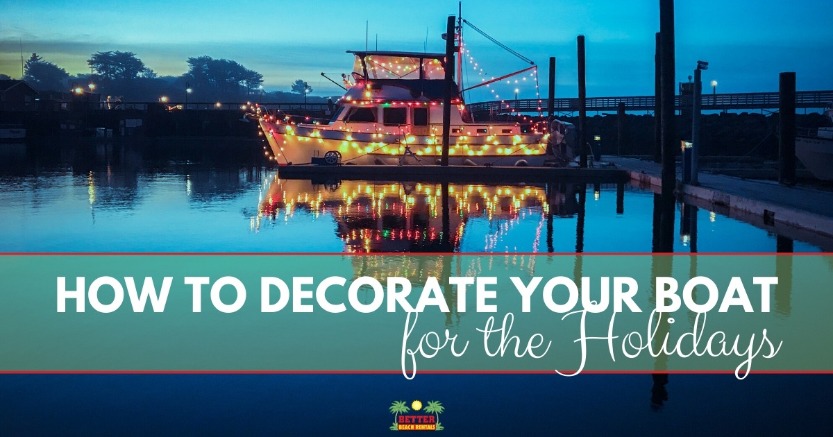 Here on Oak Island, we love all things related to the ocean. We all love the beach and the beach lifestyle. Casual dress, cool breezes, and a laid back atmosphere that, well, just makes like better. For many of our residents and, of course, our visitors, the real draw to the area is all the great boating! Whether you're a seasoned sailor looking to stop for a visit or one of our renters bringing a boat to go fishing, boaters love Oak Island. With the holidays just around the corner, it's also a great time to fire up the boat, throw on some decorations, and join a flotilla and spread some holiday cheer! This week we have all the information you need on how to decorate your boat for the holidays.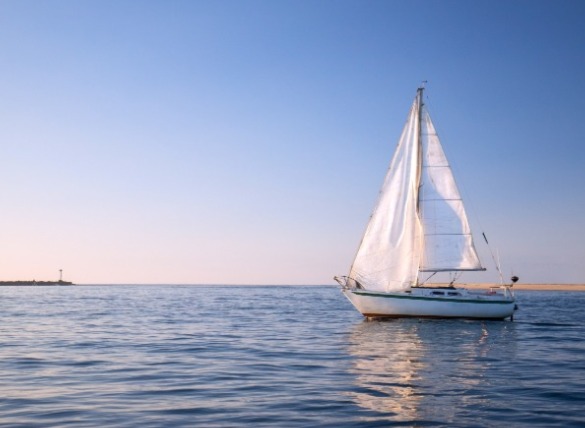 Know your boat
Before you start decorating your boat you need to have a plan. The first step is to assess your boat. For example, powerboats tend to have lots of horizontal lines, which are perfect for hanging lights. Of course, sailboats with their tall masts and lines are perfect for hanging long strands of lights vertically.
Take a moment and walk around your boat and look for places that are easy to attach lights and other decorations. Soon you be the talk of Oak Island.
Another thing you need to assess about your boat is the power that it has available. We'll touch on that more below, but a good first look is important.
Remember your power supply
A lot of boaters have grand plans but realize quickly that their plans exceed their power supply. The bottom line is for most big displays, you're going to need to have a generator on the boat. Of course, if you are docked at the marina, you can usually grab some extension cords and plug into the standard outlets on most shore power pedestals.

Create Shapes
From dolphins to complex beach scenes, there is almost no limit to what you can create. Here are a few things you should consider.
Decide how you want people to view your display. Inflatables on the fore-deck can be viewed equally well from all sides of the boat. On the other hand, words or signs are best viewed from the port or starboard side.
One easy way to make things is by using chicken wire to support the lights. You can simply tack the chicken wire to plywood or sturdy inch thick foam insulation (paint black to hide it) and you have an easy way to hang a lot of lights in the pattern you want.
Gather supplies
Like any project, the key to success is having the right supplies. For decorating your boat, this can include having a few handy items readily accessible. Some of the things you might need are zip ties, extension cords, chicken wire, spare bulbs, extra line, and electrical tape.
LED lights approved by Underwriters Laboratory (UL) are much more durable than traditional lights. The benefits of LED's are they use little energy and produce very little heat, helping you avoid fire hazards. Don't forget many of your favorite yard decorations can do double duty on a boat!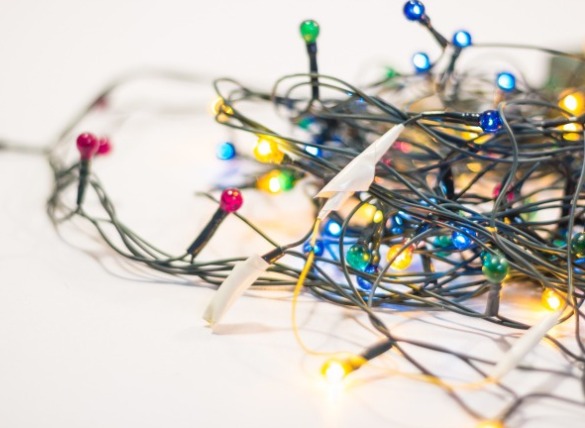 Safety first
Any time you are adding a bunch of lights and other things to your boat, you increase the risk of fire. With the invention of LED's, a lot of this risk has been mitigated, but there are things you will still want to do and consider.
You should always have a fire extinguisher handy. Before hanging any lights you should check for frayed wires and connections. Take a few minutes and wrap plug connections tightly with electrical tape. Always remember to watch the number of lights you have plugged in and don't overload the circuit. When in doubt, go on the conservative side.
Now you have everything you need to get started decorating your boat for another festive and fun holiday season! Make sure to send us a picture of your designs. We love to see what our clients, friends, and local community are creating!
Are you still looking to plan your 2020 summer vacation? Do you have a boat? Are you looking for the perfect vacation home for not just your family, but you boat as well? If you are, look no further than Oak Island! Give us a call today at 910-278-1147 to book your holiday vacation or your upcoming 2020 beach vacation.
Comment on this post!