---
Tips For Packing the Perfect Beach Picnic
Posted On Monday, October 25, 2021
---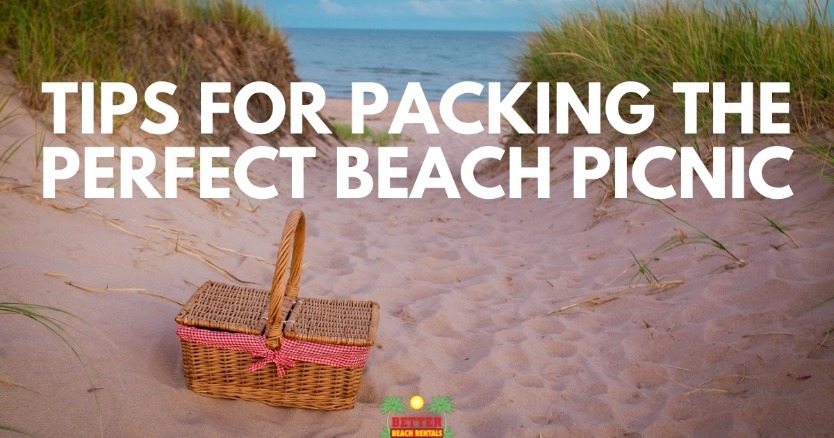 A day spent in the sun and waves is sure to make tummies growl. Today we will give you some of our favorite beach picnic tips, from what to pack to how to pack it.
The beaches of Oak Island are ideal for a picnic on the beach, no matter what time of year you are able to visit. In fact, how about now? Browse Oak Island vacation rentals.
Easy beach picnic foods:
Here are a few foods that we love to bring to the beach, because they are delicious, satisfying, and easy to pack:
🍎 Fresh fruit
Fruit is the BEST snack to bring to the beach. It's hydrating, sweet, and healthy. Our favorites include grapes, berries, apples and of course, watermelon! Wash and chop everything before you head out.
🥒 Cut veggies
For some reason, cut veggie sticks (like carrots, cucumbers, zucchini, and peppers taste better on the beach! They are crunchy, cold and super good for you.
🥪 Sandwiches
Sandwiches are crowd-pleasers and so versatile. Keep it simple with turkey and cheese in a tortilla, or pack up some peanut butter and jelly. Wrap each sandwich separately.
🥜 Bars & Trail Mix
Granola bars (& trail mix) are perfect when you are packing a school lunch, and they are just as great for a beach picnic. Your family may not want to slow down to eat, so throw a nutrition-packed bar their way.
🍿 Chips & popcorn
For some reason, hanging out near the salty ocean makes us crave salty foods, too! Bring some bags of chips, popcorn, pretzels and more. Just watch out for dive-bombing seagulls!
🍪 Goodies
Yes! Bring cookies, Twizzlers, and other goodies along on your beach picnic! You deserve a treat after struggling with that beach umbrella.
How to pack your food:
You could just throw everything into a cooler and drag it to the beach, but here are some tips to make it easier on you (and keep your food in great shape):
1. Try a backpack cooler (or two)
Traditional coolers are very heavy. Try a backpack cooler or one that can sling over your shoulder.
2. Use hard-sided containers
Don't let fruit and sandwiches get squashed... pack them in plastic containers and stack 'em up.
3. Use your water bottles as ice-packs
Freeze water bottles the night before and place in your cooler as extra "ice".
4. Pack frozen food
Freeze your fruit, cookies, and peanut butter sandwiches before packing.
5. Keep your cooler inside
Placing cold food into a cooler that has been sitting in the sun makes no sense. Keep your cooler inside the A/C before packing!
6. Take food out of packaging
Pre-wash fruits & veggies. Leave as much "trash" at home as possible. And bring a bag for the rest!
7. Try an ice sheet
Try placing a flexible ice sheet on top of your food in the cooler. It can be trimmed with scissors to fit whatever shape cooler you have.
If you choose a backpack style, you can place one on the bottom and one on top of your food.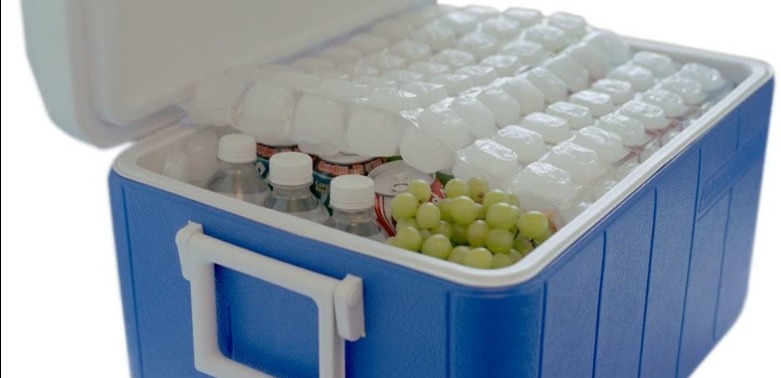 Eating delicious food is one of the best parts of vacation! Enjoy your beach picnic, and don't forget to check out all of the fabulous local restaurants we have to offer on Oak Island!
Ready to book your next vacation? Our staff is ready to help, or feel free to browse available rentals on our website at betterbeachrentals.com.
Comment on this post!