---
Top 10 Reasons to Celebrate Thanksgiving on Oak Island
Posted On Monday, November 12, 2018
---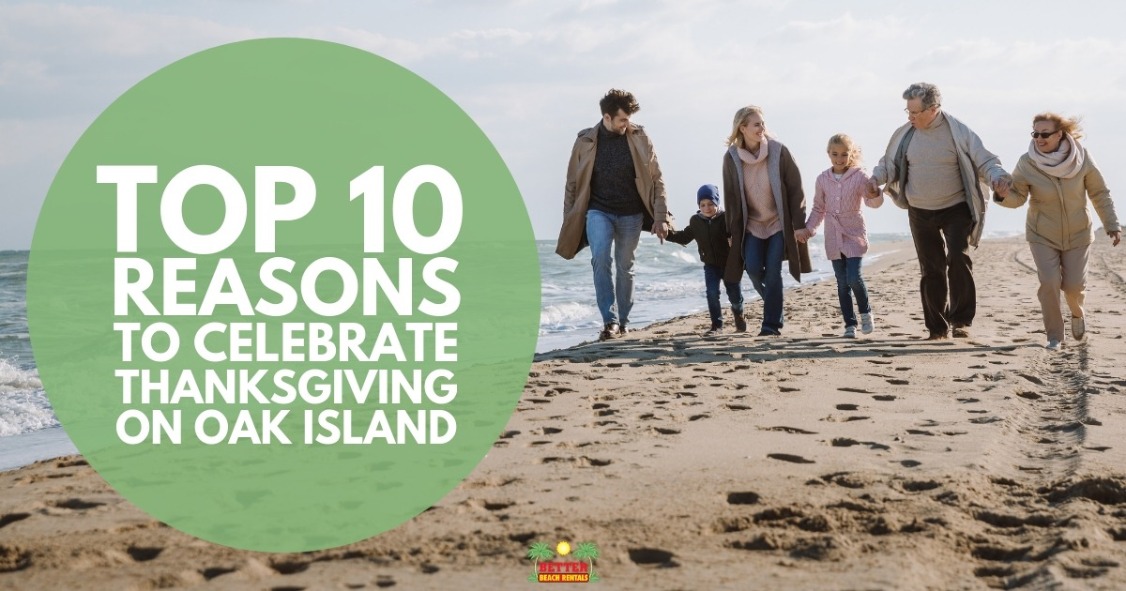 Visiting Oak Island isn't just for summertime. The off-season on Oak Island is just as fantastic as summertime and it has a lot of advantages in and of itself. Fall is a particularly great time to visit because you can incorporate your Thanksgiving celebration into your visit.
Here is our Top 10 list of reasons to have an Oak Island Thanksgiving. We're counting down to the most important one but all of these reasons are great excuses to get away this Thanksgiving holiday and head to the beach. It's never too early or too late to plan your next Oak Island beach vacation. Check out our available Oak Island rentals or start planning for next year.
Now, let's get to that Top 10 list!
10. Changes in latitude, changes in attitude
We can all agree that the holiday season, while fun, is also often filled with stress. Maybe Jimmy Buffett has the right idea when he says a a little change in your latitude can change your attitude. Perhaps he has visited Oak Island and understands how a getaway to our beautiful island can be just the right prescription for relieving holiday stress.
9. The beach is actually good for you.
Sure a day on the beach isn't like eating broccoli but who wants to eat broccoli. So instead take a beach vacation. We promise you won't have to convince the kids to go to Oak Island. Plus the beach allows you to walk, soak up some vitamin D, inhale that beautiful salt air, and relax to the crashing waves of the majestic Atlantic Ocean. We're not going to say the doctor ordered you to relax on the beach this holiday season, but let's be honest, he just might if you could.
8. The crowds have thinned
Another benefit to spending time at the beach during Thanksgiving and Christmas is that Oak Island and Southport retailers and restaurants are still open for business. But the crowds have thinned and hospitable local residents are relaxed and eager to welcome you to our community.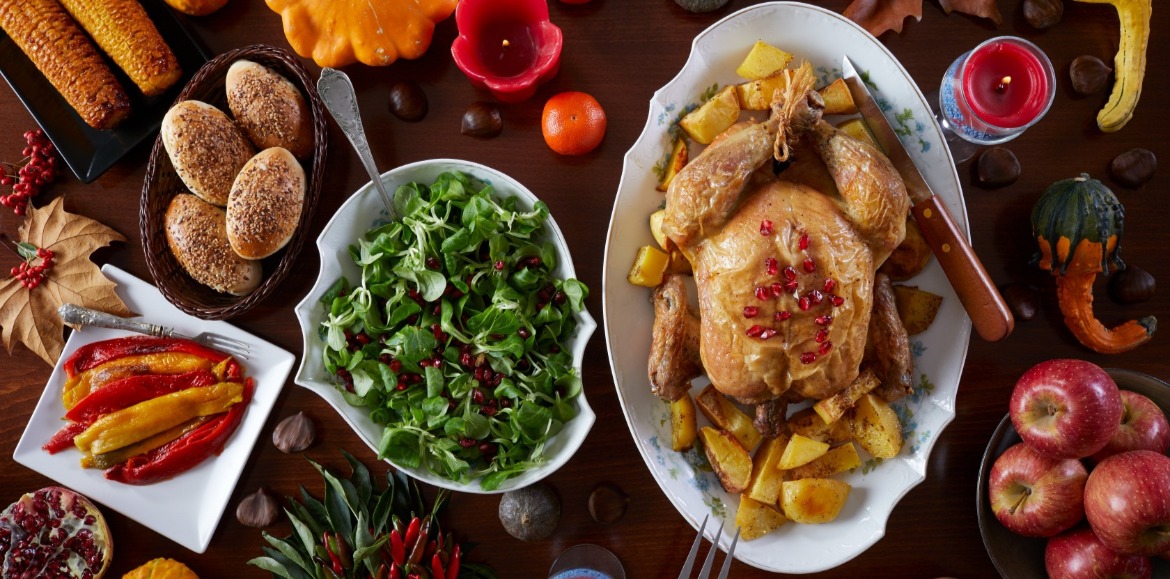 7. Explore your Thanksgiving dinner options.
Do you host Thanksgiving every year? Or are you the one in the family that rarely get to host because another family member has dibs on it every year. Then this is the year to make a change. If you choose to travel over the Thanksgiving holiday, it doesn't mean you won't have options on Thanksgiving Day. Whether you opt to create a Thanksgiving feast in the comfort of your Oak Island vacation rental or go out for Thanksgiving dinner at one of our local restaurants, you're sure to have an unforgettable celebration on the coast. It might just be the break from the ordinary holiday routine that you've been looking for.
6. Plenty of room for the whole family.
Our Oak Island vacation rental properties range in size from one bedroom condos to six bedroom homes. Need extra bathrooms? We even have an eight-bedroom home with six bathrooms! Our homes and condos sleep from 2 – 20 people and many allow dogs. (After all, what's a holiday without your fur baby, right?!) Check out all of our properties by clicking here!
5. The best nap is right here.
The best nap you'll have all year is hereWho doesn't take at least one nap during Thanksgiving break? That much anticipated nap after Thanksgiving lunch can't get any better if you stretch yourself out on a lounge chair on your deck and let the sound of the lapping waves of the Atlantic Ocean lull you to sleep. Stretching out right on the sand is another option and November temps are often perfect for a day on the beach. Toss a blanket on the sand, feel the rays of the sun on your skin, and nap like you can nowhere else. Truly, the best Thanksgiving nap you've ever had awaits you in Oak Island
#4 Attend a holiday event on Oak Island
Thanksgiving on the Oak Island happens to be a perfect time to enjoy some of our local events and attractions. Whether you come for a few weeks after for more of a late fall vacation, or decide to forgo Thanksgiving and have an Oak Island Christmas vacation. Either way this is the perfect time of year to visit. Check out our previous post: Celebrate The Holidays On Oak Island With These Awesome Events for all the local happenings.

#3 Experience the holiday season on Oak Island
Thanksgiving is the gateway holiday to the rest of the holiday season on Oak Island. Not only can you celebrate Thanksgiving here, but you'll also get a glimpse of the coastal Christmas holiday in our neighboring towns like Bald Head Island and Southport. There's something extra magical about Christmas on the coast. See how we celebrate the holiday season on Oak Island.

#2 Memories last forever
Why not make some unique memories that the whole family will remember for years to come. Sure we all love grandma's house, but what if grandma lived on the beach! Well, now she can (at least for Thanksgiving). Everyone will love a change of pace and making new memories on Thanksgiving. For all of you from up North, think about a warm Thanksgiving with sand between the toes v. snow! Does it sound like a fairytale? It doesn't have to be. Turn south and make some new memories this year at the beach.

#1 Celebrations at the beach are always better
I think we can all agree that the beach makes everything in life better—and that includes Thanksgiving. Sink your toes in the sand this Thanksgiving and enjoy a holiday celebration at the beach. Who knows, you may love it so much that you make it your new Thanksgiving tradition. Wouldn't it be nice to look forward to an Oak Island Thanksgiving every year!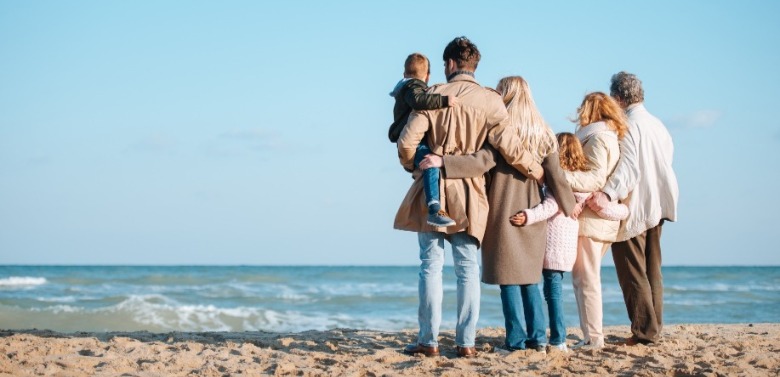 Ready to make an Oak Island vacation a reality? If so give us a call today, and we can help you start planning your Thanksgiving getaway. Of course, it is never too late to begin planning your 2019 summer vacation either.

What's your reason for celebrating Thanksgiving on Oak Island?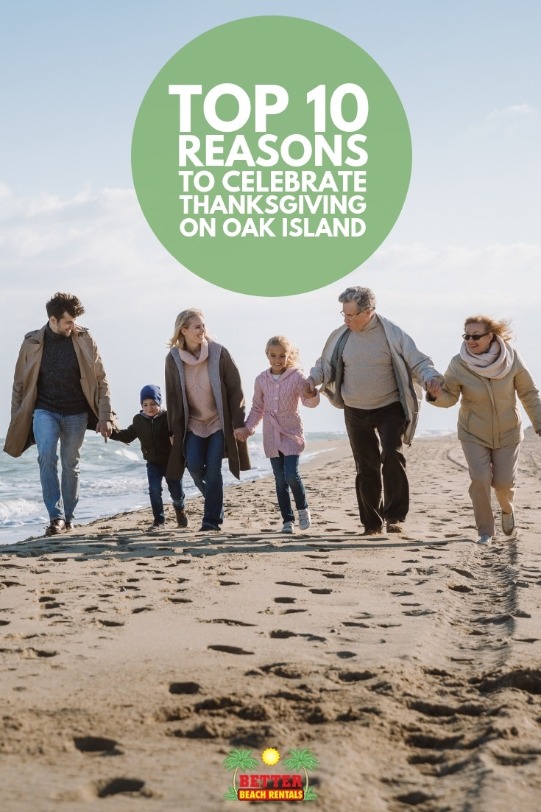 Comment on this post!