---
Everything You Need To Know About Bringing A Drone On Your Oak Island Beach Vacation
Posted On Monday, July 09, 2018
---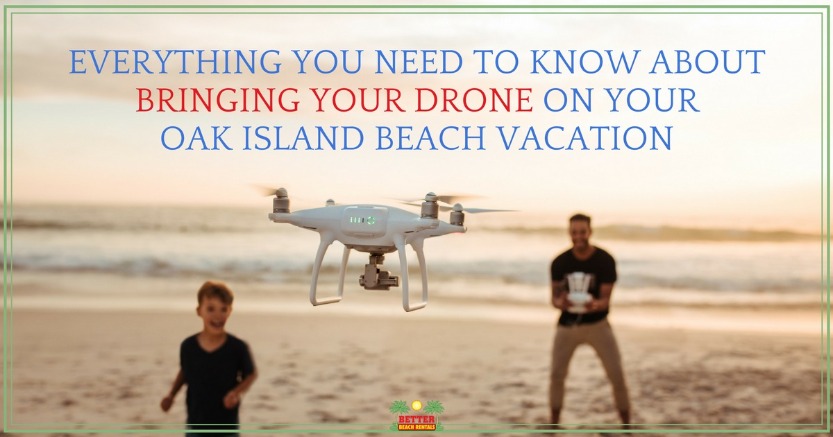 Drones have become more and more popular over the last few years. Their small size, ease of use, and incredible HD video capabilities have made them popular with young and old alike. Bringing your drone on vacation is a great way to capture stunning video. In fact, now you can even use drones to fish! However, with there popularity has come controversy and some new rules that you may not be aware of. This week we have all sorts of useful information for those wishing to bring their drone on their Oak Island beach vacation.

Know The Rules
Before you fire up your drone remember to review the rules. There are both federal, local and state rules that you should be aware of. Even recreational drone fliers have rules to follow. Here are five quick things you need to know to comply with the law. We strongly recommend watching the video to the left for lots of great info.
1. Drones between .55 and 55 Lbs must be registered with the FAA. You can do this by clicking here.
2. Get the B4UFLY App to give you up to date info on areas where drones are not permitted.
3. Keep your drone within line of sight.
4. Always fly at or below 400 ft.
5. Never fly a drone under the influence of alcohol or drugs.
Quick FAA Guide
Below you'll find a quick chart of the difference between recreational and commercial drone use.
Fly under the Special Rule for Model Aircraft
(Section 336)
Fly under the FAA's Small UAS Rule
(Part 107)

Fly for hobby or recreation ONLY
Follow community-based safety guidelines and fly within the programming of a nationwide community-based organization
Fly a model aircraft under 55 lbs. unless certified by a community-based organization
Fly within visual line-of-sight
Never fly near other aircraft
Notify the airport and air traffic control tower prior to flying within 5 miles of an airport
Never fly near emergency response efforts

Fly for recreational OR commercial use
Get a Remote Pilot Certificate from the FAA
Fly a drone under 55 lbs.
Fly within visual-line-of-sight*
Don't fly near other aircraft or over people*
Don't fly in controlled airspace near airports without FAA permission*
Fly only during daylight or civil twilight, at or below 400 feet*

* These rules are subject to waiver.

For more information, see:
Fly under the Special Rule for Model Aircraft
For more information, see:
Fly under the Small UAS Rule
Special Note About National Parks Property
National Parks and National Parks Properties offer visitors access to beautiful land, historical sites and other national treasures. However, drones are illegal in all National Parks. Violators can be charged with a misdemeanor and a $5,000 fine! Click here for more information from the National Park Service.
Drone Fishing: Where Drones Meet The Big Catch
You may have seen something strange on the beach lately. You're walking along and see a person surf casting with the typical setup, but then you hear the soft buzz of a drone in the distance. You look out over the water and see a drone. Welcome to the world of drone fishing, one of the hottest crazes within the fishing community. How does this work you ask? Good question. Here are a few answers.
First, Drone fishing is really not much different than regular fishing. However, the drones are being used in two ways. Drones are able to head out to sea past the surf zone, sandbars and other physical obstacles to see where the fish are. Since the drones have cameras, they give the fisherman a bird's eye view of potential catch. Some fisherman use it for this purposes. Others, however, have taken it to the next level (check out the video above) and actually use the drone to take their baited line far out past the break which allows them to drop the bait directly on top of their prey. Then they just wait for the bite and reel in the big one.
Don't forget in North Carolina all applicable fishing licenses still apply to fishing with a drone. Click here for more info on obtaining an NC Fishing License.
Ready to plan your Oak Island beach vacation? All that is left to do is give one of our friendly reservationists a call at (910) 278-1147 or click on the button below to start planning your home today.

Comment on this post!