---
Everything You Need to Know About the Oak Island Piers
Posted On Monday, June 10, 2019
---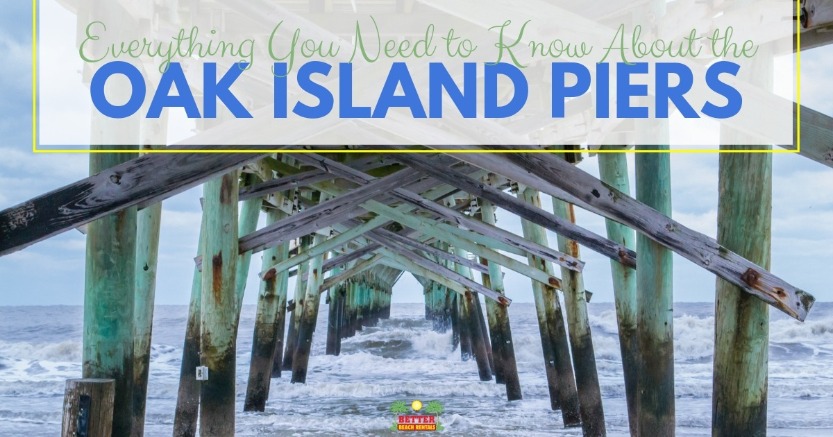 One of the best things about traveling is the joy of discovering those hidden gems. You know, that out of the way restaurant that you fall in love with or maybe that secret spot on the beach that nobody seems to know about. This year when you visit Oak Island we have two secret gems… well maybe not secrets, but gems nonetheless. This week we discover two of those awesome places that you need to be on your "must see" list during your Oak Island beach vacation.
Oak Island Pier
It's back! The Oak Island Pier (formerly called the Yaupon Pier) suffered at the hands of Mother Nature, but the repairs are coming along. The pier is expected to be open on Memorial Day 2019. The new repairs include many improvements including, lighting, decking, and a new restaurant lease. This means the pier is going to be the perfect place to take a stroll, have a great meal (with an awesome view) and, of course, the place to be for all the best fishing. Make sure to stop at the Oak Island Pier during your Oak Island Beach vacation and discover why everyone is excited that this beloved attraction is back.
Ocean Crest Fishing Pier
The Ocean Crest has been a staple on Oak Island for generations. In fact, the pier is often sited as being the best pier fishing spot in North Carolina, and that is a huge statement given how many piers there are on the North Carolina coast. The pier offers so much more than just fishing. There are worship services, events for wounded and disabled veterans and, of course, there is the fishing. Known for its Mackerel fishing, the pier has everything you need to catch that prize fish. From rod rentals to fishing passes, the folks at the pier have made it easy to enjoy everything the pier has to offer.
Contact the pier by Clicking here
1409 E. Beach Drive
Oak Island, NC 28465
(910)-278-6674
Five Awesome Reasons to Visit the Piers
Photo opportunities: If you are looking for the perfect place for that social media update you've wanted to make, what could be better than a shot on the pier with the beautiful Atlantic in the background?
Everyone loves fishing: Pier fishing is one of the beach activities that folks have loved for generations on Oak Island. Check below for more information on how to get into pier fishing.
It's relaxing: There is something soothing about the slow rhythm of the waves rolling in off the Atlantic. That combination of power and serenity that we all love about the beach is even more magnified when you are sitting on the pier on a cool summer night. Try it, we're sure you'll love it.
Make a memory: Let's face it. Piers are just cool! Where else can you get 800 feet off the beach without being in a boat. As a kid I remember the awe I felt the first time I happily bounced down the pier tugging at my parents arms the whole way. Memories are what we are all about here at Better Beach Rental. Make yours today!
Meet the locals:
As we mentioned at the beginning of this post, one of the best things about traveling is finding the hidden gems. This applies not just to places but also people. Oak Island has a wonderfully warm and friendly community and for many a day on the pier is a big part of why they call Oak Island home. Come by and chat; you never know where that new friend is lurking…it might just be on the pier.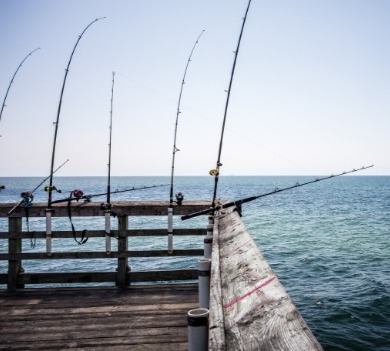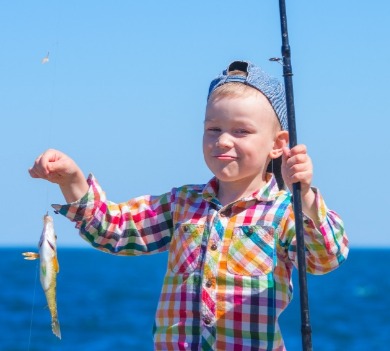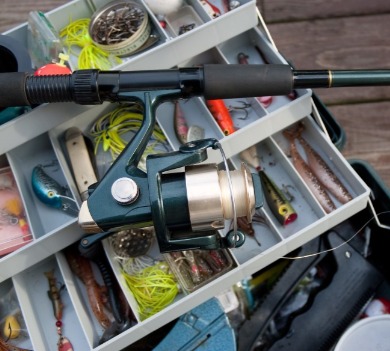 🎣 Beginners Guide To Pier Fishing 🐠
Any day-spent fishing is a good day but spending the say pier fishing is something magical. Of course, you need a pier. Since we have the piers, what you really need is an Oak Island vacation! Now let's book that vacation and take a look at why pier fishing is so fun. Let's start with the basics.
The first and most important pier fishing tip is to have the right equipment. Luckily the equipment is inexpensive and easy to use. You'll be catching fish in no time.
Fishing Rod: You'll want a basic spinning rod that is in the 12-15 lb. range. Since we aren't off-shore fishing you won't need a really heavy rod.
Weights/Sinkers: These keep your bait deep in the water right where the fish are. Use 1 or 2 ounce weights.
Bait: Popular types of pier fishing bait include bloodworms, shrimp, squid, anchovies and sardines. These should all be available at your local pier or bait shop. Note: Live bait is ideal so try to find a shop that offers this option
Hooks: J-hooks are the typical type of hook used in pier fishing.
Knife: A good sharp knife is invaluable. A filleting knife is perfect for not only cleaning and filleting the fish but also for cutting bait and tangled lines.
Pliers: Pliers are perfect for removing the hooks from your prize catch.
Tackle Box: A tackle box is a must have piece of equipment. However, you don't need anything fancy. Just start with the basic box. You can build and add to it as you gather more equipment.
Bucket: These are handy for holding your catch, storing bait, or even as a seat.
Do I need a fishing license?
No! One of the best things about pier fishing is you don't need to purchase a North Carolina fishing license. The pier's fishing license is a blanket license that covers everyone fishing on the pier. What a great bargain!
There is still time to enjoy the Oak Island piers. All you have to do is book your late summer beach vacation today! Need help booking your Oak Island beach vacation? Give us a call today at 910-278-1147 or click the button below to see our entire current inventory.
Comment on this post!