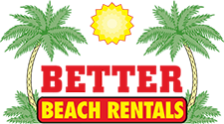 Although it is our desire to make everything great for your vacation, we understand that situations arise which may cause you to have to cancel your reservation. In the unfortunate event you must cancel, Better Beach Rentals is proud to offer your vacation travel protection through our insurance provider, Red Sky. We strongly encourage taking this travel protection. Red Sky Sun Preserver covers a great number of issues that may arise before and during you vacation.
The travel protection, if purchased, includes insurance coverage for Trip Cancellation, Trip Interruption, Travel Delay, Baggage Delay, Accidental Death and Dismemberment and Emergency Assistance. You can read more about the coverage by going to https://trippreserver.com/sun-trip-preserver/. Please remember, in the unlikely event of a mandatory evacuation of the Oak Island area, Better Beach Rentals does not reimburse you for nights missed on your vacation. The only way to receive a reimbursement from a storm related interruption is by purchasing travel protection insurance.
COVID-19 – Please contact Red Sky for more information concerning COVID-19 coverage. In the event that you are diagnosed with COVID and cannot travel, coverage for illness is detailed in the policy. You will need to provide medical documentation.
Please contact Red Sky at 1-866-889-7409 if you have any questions about this policy.
Please contact us today 1-910-278-1147 if you would like to add Travel Protection to your reservation. We will be happy to assist you, and look forward to your upcoming arrival.
It's Better at the Beach!
Better Beach Rentals & Sales
8601 E. Oak Island Dr.
Oak Island, NC 28465
910-278-1147
Betterbeachrentals.com